Six Sigma Workshop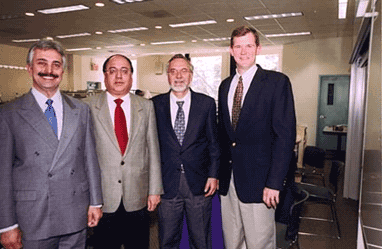 The event entitled "Six Sigma and Continuous Improvement from Theory to Practice," featured Eitan Zemel, Professor of Operations Management, W. Edwards Deming Professor of Quality & Productivity and Chairman of the Department of Information, Operations and Management Sciences, and industry experts Dr. Jay Desai, CEO and Founder of the Institute of Global Competitiveness (IGC), Hassan Tabbah, BS '78 and Managing Director of the Advisory Division Six Sigma at Merrill Lynch, and Michael Pestorius, Master Black Belt for the Gynecare division of Ethicon Inc. John and I met Hassan at the Hedge Fund event and he had expressed his interest in participating in a program of this nature. Hassan was instrumental in formulating the Six Sigma program from the beginning.
The program examined business strategy designed to dramatically increase productivity, reduce defects and improve client satisfaction. Among the topics that were covered were the history, background and major themes of Process Improvement, Total Quality Management (TQM) to Six Sigma, the various approaches to Six Sigma and how organizations can benefit by deploying Six Sigma through projects.
We consider such programs, one of the key benefits for Stern alumni network. Each workshop is structured to begin with a faculty lecture, followed by a panel discussion with industry experts and Q&A with the audience and an opportunity to network and exchange views about the discussion.